Maserati SD Diagnostic System Tool For Maserati Diagnosis Tester with 20% of Discount Price
27
people are viewing this right now
Guaranteed safe & secure checkout
Description
Maserati SD Diagnostic System Tool For Maserati Diagnosis Tester with 20% of Discount Price
Support all Maserati after 1995 year of diagnosis, matching, programming, and maintenance functions
Computer: Panasonic CF19 (i5)
Software version: 1.44.3.0, can support the latest models.
(ECU) installed in modern vehicles.
The Ferrari diagnostics system is a Panasonic CF laptop device.It is also equipped with:
· three standard RS232C serial lines;
· six standard ISO9141 / CARB / KEYWORD 2000 serial lines;
· two standard CAN serial lines
· multi meter in volts (up to 200 V d.c.) and Ohm (up to 1 Mohm)
It can be interfaced to a PC containing the software required to update the ECU diagnostics software through
one of the following lines:
· standard RS232C serial line,
· USB serial line
· Ethernet 10/100Mbit network
· Ethernet Wireless 802.11b network
For better efficiency and faster data transfer between the PC and the DEIS unit, we suggest you use the USB
line or an Ethernet/Wireless network for communications.
Support Model
Cover SD2 / SD3 Until 2016
3200 GT (3200 GT)
Ghibli (M157)
Gransport (Gransport)
GranTurismo (M145)
GT (M138)
Quattroporte (M139)
Quattroporte (M156)
Quattroporte MY (M139 MY)
Software
MDVCI-Diagnosis software
Spare part catalogue
Wiring diagram
Service menu / Work hour menu
Module location menu
Diagnosis/Guide Function
Live data / Coding
Active/Special function
Programming ( Immobilizer system need ON-Line Access account )
Maserati Diagnosi System Display: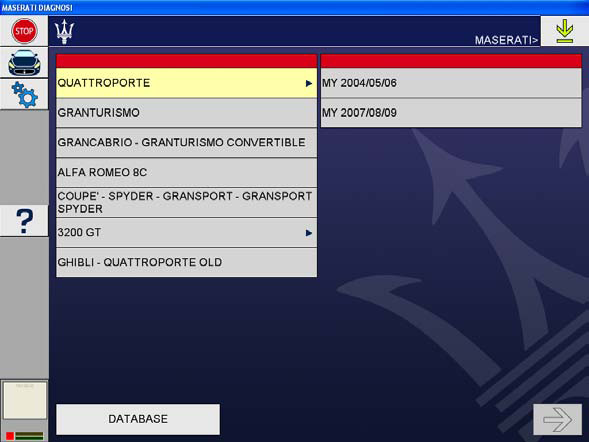 Real product photo show: